College is pricey. From costly textbooks to the constant hikes in tuition rates, going to college requires a significant financial investment. The prospects of a good career ahead of you should make this investment worthwhile, but you still won't want to graduate with astronomical debt. An overwhelming amount of debt can haunt you for decades and some people never manage to fully pay it off.
Truth be told, college is more expensive than ever before. However, the good news is that there are many simple ways you can save money and still get a great education. By incorporating just a few money saving tips and adjustments into your lifestyle you will be able to make big savings.
Here are a few of our top tips for saving money while attending college: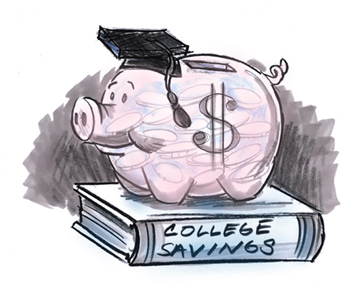 You won't get the exciting social life you will likely find at a traditional brick and mortar school, but studying online will definitely save you a lot of money! An online university degree program generally offers significantly lower tuition rates in comparison to regular four-year schools. What's more, you won't have to re-locate or have to commute to class. Many of your textbooks will likely be downloadable and thus more affordable as well. Furthermore, many online degrees allow you to make your own hours and study at your own pace, so you can easily still hold down your regular day job while you study online!
Look for Grants and Scholarships
Most schools offer substantial amounts of grants and scholarships which essentially equates to free money for the awarded students. Explore any grants and scholarships available and also look into needs-benefits such as veterans education benefits. If you have difficulty understanding what benefits are available to you, most schools have representatives at their financial aid office that can assist you and walk you through the process of applying for grants and any benefits you may be entitled to.
Aside from tuition and accommodation, perhaps the next most expensive aspect of college is textbooks. Buying textbooks brand new can prove to be extremely expensive, so you may want to buy secondhand when you can. Many campus bookstores sell used copies of books as well as new ones and often the used ones are significantly cheaper. In addition, you can usually find even cheaper secondhand books for sale online and there are even online stores where you can rent books per semester. Therefore, always look for potential secondhand copies when possible.
We all want to go to a prestigious school, but you may want to try attending a community college at first and transferring to your dream school later. Virtually all universities accept transfer students from community colleges and in some cases it has even been reported that it is easier to transfer to a prestigious school as a community college student than it is to get accepted as a freshmen. Community colleges generally offer very affordable course rates and classes can be surprisingly small. You can also find them in all major towns and cities, so you can probably remain living at home which likely means paying no rent!
Prepare for Your Future Career
You are more likely to be crushed by college debt if you are unable to get a solid job shortly after graduation. Interest rates will start to gather and if you are unemployed or earning minimum wage you will unlikely be able to pay your debts back anytime soon. However, there are various ways you can prepare yourself for a prosperous and financially rewarding career while you are still in college. One excellent way to prepare yourself is to complete several internships while in college. Employers are always impressed if you have real world work experience and internships also allow you to build up contacts that you can call upon when you are looking for work as well as for references in the future.
As you can see, college doesn't have to completely drain your financial resources. It is pretty likely that you will graduate with some level of debt, but this debt doesn't have to be crippling if you make wise financial decisions while in college. Whether you decide to attend an online university or simply only buy secondhand books the savings you will accumulate have the potential to help you stay further out of the red. Be cautious with your spending and always keep an eye out for thrifty ways to complete your education. Good luck!